The delivery robots market is expected to grow from USD 11.9 million in 2018 to USD 34.0 million by 2024, at a CAGR of 19.15% during the forecast period. The reduction in last-mile delivery costs due to the adoption of these robots is the key factor driving the growth of the delivery robots market. The increase in venture funding is another driving factor for the market.
• Delivery robots with load carrying capacity of more than 50.00 kg to hold the largest market size by 2018
• The market for delivery robots with higher than 6 kph speed to grow at the highest CAGR during the forecast period
• 4-wheeled delivery robots to dominate the market in 2018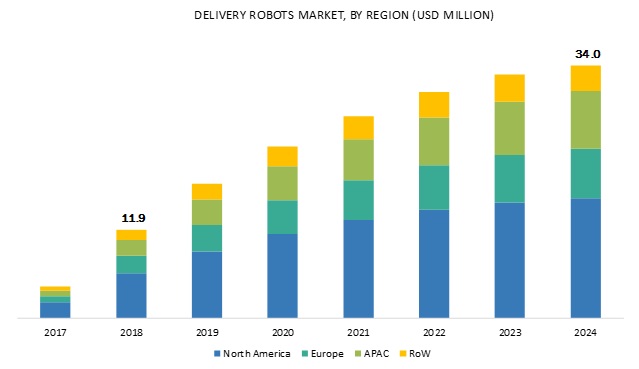 • The market in APAC is expected to grow at a significant rate during 2018–2024
Key Market Players
A few major companies in the delivery robots market are Starship Technologies (US), JD.com (China), Panasonic System Solutions Asia Pacific (Singapore), Savioke (US), Nuro (US), Amazon Robotics (US), Robby Technologies (US), Boston Dynamics (US), Robomart (US), Eliport (Spain), Dispatch (US), Piaggio Fast Forward (US), Marble (US), TeleRetail (Switzerland), BoxBot (US), and Kiwi Campus (US). Apart from these, players such as House of Battery (US) and Ultralife Corporation (US) supply batteries to key autonomous robot manufacturers, and companies such as Fastree (Switzerland) and Quanergy (US) are the suppliers of light detection and ranging (LiDAR) sensors.